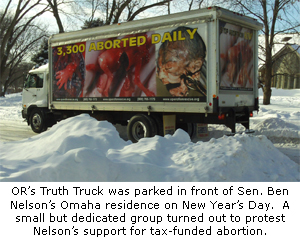 Omaha, NE — A small group of pro-life supporters braved sub-freezing temperatures and knee-deep snow on New Year's Day to protest outside the Omaha residence of Sen. Ben Nelson. The group, which was joined by Operation Rescue's Truth Truck, voiced disapproval of Nelson's "Cornhusker Kickback," in which Nelson traded his vote in support of tax-funded abortion for special favors for Nebraska.
The group of protesters displayed signs that read, "Keep your hands off my Health Care" and "Ben Nelson, Traitor to the Unborn."
At one point the Truth Truck, a large panel truck that displays billboard-sized images of aborted babies, became stuck in a snow drift near a busy intersection. However, during the 15 minutes it took to free the vehicle, it was viewed by hundreds of passersby.
The group of seven activists, led by Rescue the Heartland's Larry Donlan, reported that several neighbors came out to give them the "thumbs up."
Nelson's vote for taxpayer funded abortion is extremely unpopular in his home state. Pro-life groups like Donlan's, including Nebraska Right to Life and Nebraskans United for Life, that supported Nelson in the past have considered his deal a betrayal.
Read the rest of the story at
Operation Rescue.